Whether you like it or not, Instagram is a useful tool for planning what to do, eat, and see while travelling to new places. We lust after those locales after scrolling through numerous Instagram hashtags and accounts. For us, Australia was one of those locations. Australia is like the popular girl in high school, with her oceans, deserts, and mountains. She has everything.
This article is for you if you're visiting Australia for the first time or if you're a local looking to keep your Instagram feed current. In no particular order, here are our top ten Instagrammable spots in Australia.
1. Noosa National Park, Queensland
Noosa is a growing tourist destination with good restaurants and beaches. The national park includes a beautiful shoreline and a great observation trek. The fairy pools are by far the best location. There are two natural tide pools a short distance off the trail.
2. Cape Hillsborough, Queensland
Kangaroo sightings will become the new normal in Australia. We can't see how anyone could dislike these lovely animals. Cape Hillsborough is one of the greatest sites to watch them. Wallabies and a few roos visit the beach every morning for a feeding. It's the ideal opportunity for a close-up shot!
3. Broome & The Kimberley, Western Australia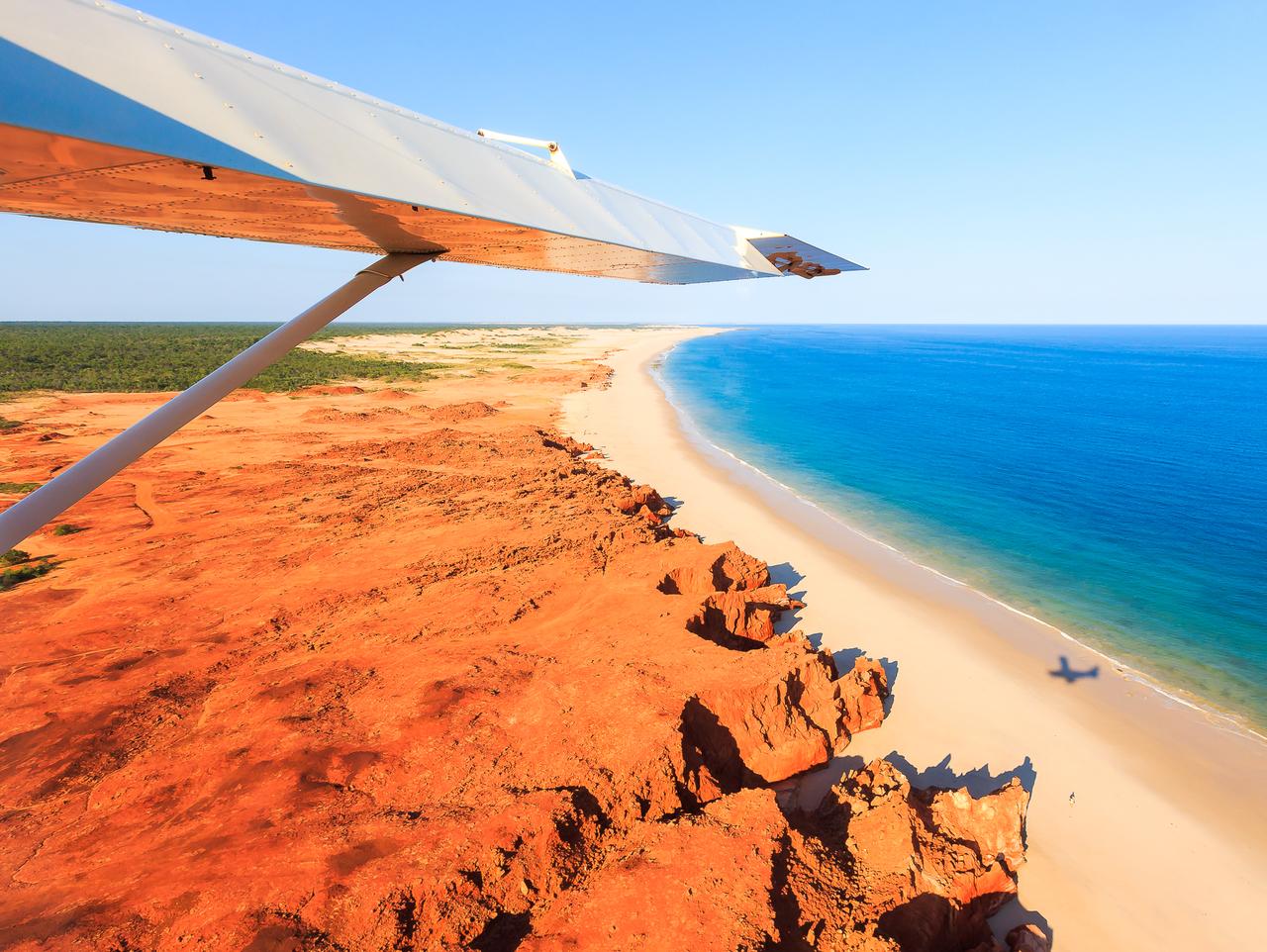 The Kimberley, in Western Australia's extreme north, is rugged and lonely, evoking Australia's spirit of exploration. Gargantuan red-rock gorges, thundering Mitchell Falls, Windjana Gorge National Park, Cape Leveque, the Horizontal Waterfall, the legendary 660-kilometer Gibb River Road 4WD adventure, and Purnululu National Park are some of the top places to see.
To get the most out of a visit here, join a tour or take a small plane ride over the stunning desert landscapes for spectacular aerial photos. Broome, a pearling town, serves as the entry point to this wild and beautiful landscape.
4. Devil's Marbles, Northern Territory
Devil's Marbles is without a doubt one of Australia's oddest and coolest attractions. How did these rock formations end up arranged so neatly? A nice campsite is available for a few dollars per night, and there are several walking trails to explore the area. Even if you're simply passing through, set aside an hour to visit this location.
5. Hopetoun Falls, Victoria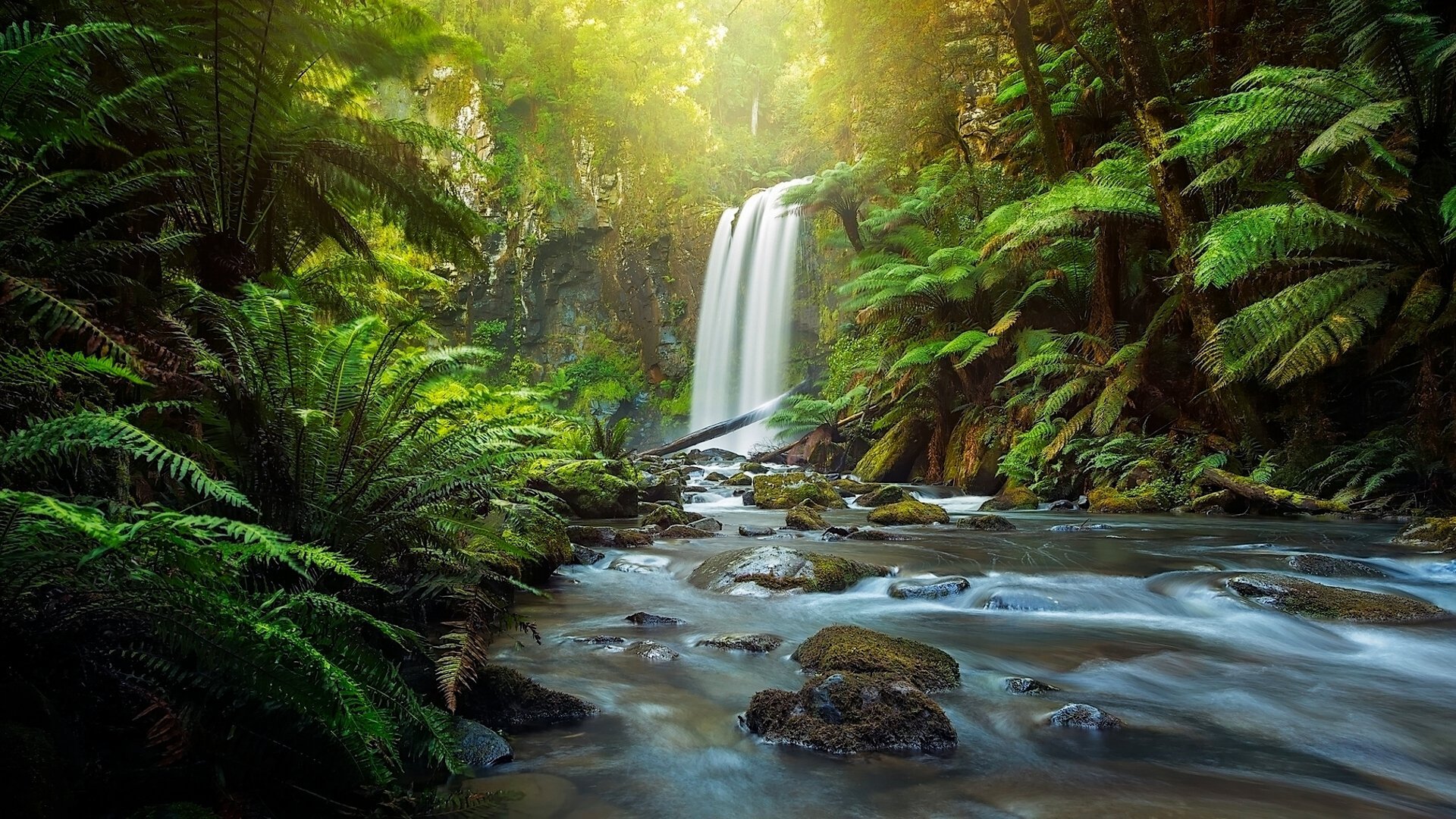 Hopetoun Falls was our favourite waterfall in Australia. It's something about the lush greenery and the perfectly positioned fallen tree that makes it so magical. The viewpoint at the end of the trail is nice, but to get the best view of the falls, go a little further and get your feet wet.
6. Hyams Beach, New South Wales
Looking for the world's whitest sand? Jarvis Bay is the place to be. There are a few interesting places to visit, as well as a lovely coastal walk, but Hyams Beach is simply too spectacular to leave off this list. We loved coming here for sunrise since we could have the beach to ourselves.
The White Sands Walk is not to be missed. Looking for a day at a private beach? Discover the hidden beach between Blenheim and Nelsons Beach.
7. Wedding Cake Rock, New South Wales
Wedding Cake Rock, commonly known as the White Rock, is located in Royal National Park. This is a two-hour easy hike that begins near Bundeena. This stroll provides magnificent views of the shoreline. During the humpback whale migration from October to December, it's an ideal spot for whale watching.
The Wedding Cake Rock is made up of pure white stacked rocks. They're breaking away from the cliff's edge, and experts believe they'll collapse within the next ten years. Because of the danger, the area has been gated off, so stay safe!
8. Lake Parramatta Reserve
If you're staying in a Parramatta hotel, don't miss out on this one. Lake Parramatta Reserve, well-known among locals but rarely visited by visitors from outside western Sydney, offers some lovely bushland walks suitable for the whole family.
There's plenty to see and do here, including renting a rowboat, swimming, and having a picnic.
It also has the Arrunga Bardo Aboriginal Bush Food Garden, which offers a self-guided trek.
9. Mount Amos, Tasmania
Tasmania is a harsh and wild landscape. Freycinet National Park is one of the rare places that can be easily explored. At every turn, there are beautiful coves and beaches.
The Wineglass Bay viewpoint stroll is extremely popular. The lookout is probably good (we didn't go), but if you're fit, skip the lookout and hike up to Mount Amos instead. The ascent is brief but not without difficulty. It is really slick and steep. The views from the top are unsurpassed in the park.
10. Cradle Mountain, Tasmania
Cradle Peak in Tasmania is Australia's most beautiful mountain. It is the most famous section of the Overland Track, and there are various walking routes to explore the area.
Dove Lake is a lovely lake at the foot of the mountain with a short hiking trail. Check out the boathouse for a great photo opportunity.
A circuit up to Hansons Peak and then down the Face Track is recommended. This trail connects to the summit trail. The hike to the peak is mandatory, however, it does involve some bouldering. The views from the summit of Cradle Mountain are spectacular. Look for the little tarns on the way down for some fun and amazing Instagram photos.
How to Take Instagram Photos Like a Pro 
Best Lighting 
Lighting is crucial to photography and, in my opinion, the most significant part. One of the most difficult things to learn is how to work with natural light. Depending on how it's used, lighting can produce delicate tones, harsh shadows, or dramatic effects.
The best way to deal with natural lighting is to learn how to shoot fully manual, especially if the lighting isn't cooperating with your goals. The best lighting, as a general rule, is during golden hour. This usually happens 30 minutes before sunrise and 45 minutes before nightfall.
Choose a Subject 
A subject, such as a log, a person, a tree, or a rock, can greatly enhance the appeal of a photograph. It adds depth to the image and gives it a more three-dimensional sense.
I don't have a subject in every image, but it does assist, especially when photographing landscapes. The scenery in this photo may be a photo on its own, but adding a subject gives it more dimension. It gives a sense of scale for how big the mountains are and how deep the lake is.
Use the Rule of Thirds
While this rule is more of a suggestion, it is nonetheless significant. The use of thirds to divide images helps to frame a picture. An image of a beach at sunset is the easiest way to visualize this. Either the beach or the sky should take up two-thirds of the image. Both the horizontal and vertical thirds are affected.
If a subject is present, centring works occasionally, but I prefer to place the subject in one of the image's corner thirds.
Find this article helpful for your next Instagrammable photo? Let us know what you think below! If you think we missed out a place on this list, we'd like to hear your thoughts.